The important roles of forest in children learning and development in ECEC 
There has been a great number of research proving that greenery and natural environment is crucial for children learning and development. The forest is a safe atmosphere for children to play under teacher´s supervision. When teachers take children for a forest trip, they have had some awareness about the place as well as examined the place as a safe place for children to play. Children are curious, so they always want to explore new things. The forest is a good place for them. Instead of gravel yard, the forest ground is better for children to perform different kind of physical activities such as running, jumping, climbing, hopping, etc., (Mårtensson, et al, 2009; Puhakka, et al, 2019; Roslund, et al., 2020).
Roles of art and craft in children development in ECEC
Ulger (2018) reported that art education is important for children in the development of their critical thinking abilities. When they are doing art alone, they try to solve a problem of completing it, make it as a beautiful product. They feel fulfilled because they can complete something and feel proud of themselves. When they do it in a group such as in an art project, they will develop social development because they communicate with each other, discuss, negotiate and interact with each other to complete the project or a product. Art also helps children to be patient (self-esteem or self-controlled). Art also supports children in their fine motor skills such as drawing, coloring, writing (how to use their fingers and hands perfectly).
The combination of the forest and art
We find children doing art and craft indoors a lot nowadays. However, taking children for a walk in the forest and doing art and crafts there is also good for children learning and development. Children will create a product of art and craft from what they collect in the forest. This way, children not only learn about art and craft, they also learn about science, mathematics and language. Children will have many chances to know the different colors of the leaves, why the corns fallen on the ground, what mushrooms look like, etc., They can collect stones and clarify small stones, big stones and counting the stones they have been collected. From what they have collected, they can create something on the floor. I had seen many good products of art children created when we were in the forest with them. A picture is one of those.
Finland is a country friendly with nature. Even though in the big city like Helsinki, it is still easy to find a forest nearby within a kilometer only. Why don´t we use this nature advantage? Children love to move. I seldom witnessed children said NO to the trip to the forest. That is why we recommend teachers and parents to find opportunities to take children to the forest. They may amaze you with their talented skills in art and craft created from the nature.
By Chi Johanson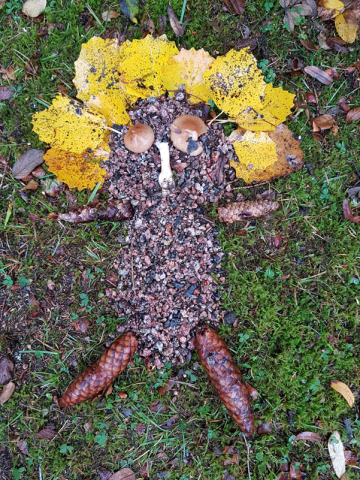 REFERENCES
Mårtensson, F., et al. (2009). Outdoor environmental assessment of attention promoting settings for preschool children. Health & Place 15 (2009), 1149 – 1157.
Puhakka, R. et al (2019). "Greening of Daycare Yards with Biodiverse Materials Affords Well-Being, Play and Environmental Relationships." International journal of environmental research and public health 16.16 (2019): 2948–. Web.
Roslund, M., et al. (2020). Biodiversity intervention enhances immune regulation and health-associated commensal.
Ulger, K. (2018). The Effect of Problem-Based Learning on the Creative Thinking and Critical Thinking Disposition of Students in Visual Arts Education. Interdisciplinary Journal of Problem-Based Learning, 12(1).